Rushcliffe Juniors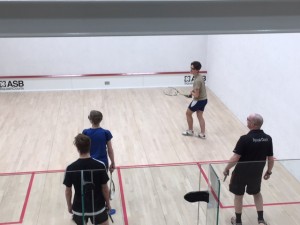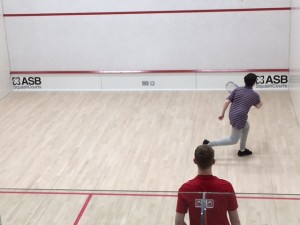 We are proud to have probably the largest growing Junior section of any Squash Club in Nottinghamshire. 8 years ago we didn't have any Junior coaching or any Juniors.
Today we have over 30 regular attendees every Saturday & Sunday Morning, attending the Group Coaching sessions! Some of our senior Juniors are now playing in the Interactive Squash Leagues & also representing the Adult Teams in the Nottinghamshire Squash Leagues!
If your child would like to become a part of our Club & taste Junior Squash in a fun & friendly environment then please contact our Head Coach Leckie Dow (contact details are below).
Leckie is UKCC Level 2 Qualified, fully licensed with England Squash (ES), fully DBS checked & has been coaching full time for 8 years.
All of our other Coaches are fully DBS Checked & fully qualified with ES. There are always 2 Coaches on hand to deliver the Saturday & Sunday morning sessions.
Please do not turn up without first contacting Leckie. He will need to know a little bit more about your child i.e. age, ability level, any medical conditions, parent or guardian contact details etc.
ALL EQUIPMENT IS PROVIDED BY THE CLUB, INCLUDING RACKETS & SQUASH BALLS & PROTECTIVE EYE WEAR GLASSES. YOUR CHILD JUST NEEDS TO WEAR THEIR NORMAL PE OR SPORTS KITS & CLEAN COURT SHOES OR MODERN TRAINERS.
Session Times – all sessions now being held at the NEW RUSHCLIFFE ARENA , the home of Rushcliffe Squash Club.
Saturday Mornings – Beginners & Improver's – 5 to 13 year olds – 09.30-10.30am
Sunday Mornings – Beginners Squash – 5 to 13 year olds – 10.00-11.05am
Sunday Mornings – Improver's Squash – 13 to 16 year olds – 11.05am-12.10pm
The ages stated above are approximate & will vary from child to child, depending on ability level & whether they've played Squash or other racket sports before.
Prices
Paying Upfront – £4.50 per session (£45.00 for 10 weeks) payable by BACS
Pay As You Go (PAYG) – £5.50 per session each week
Your child's first Junior Coaching session will be FREE of charge!
Every month, our Juniors get an opportunity to have a FREE 1-2-1 coaching session with Leckie. One lucky name is pulled out of the hat each month!
Contact Leckie on 07773 347541 leckiedow@yahoo.com