| | Squash for Ladies at Rushcliffe Squash Club |
| --- | --- |
Bored with the gym?
Why not try squash ?

You can burn over 1000 calories per hour!

Whether it's the first time you've picked up a squash racquet or its a while since you've stepped on court, be prepared to be hooked.
As well as being a great fitness and calorie burn, we aim to make our sessions fun and sociable!
---
Where do we play ?
The Squash Club hires courts at the Arena Leisure Centre for coaching, Club Nights and team matches.
---
Fancy giving it a try?
Come along to a club night and try it for yourself, we can loan you a racquet if you don't have
one!
---
Ladies
In a male dominated sport we're pleased to tell you our club has over 20 ladies playing competitively in the club leagues and ladies playing in a mixed team at county level.
---
Squash Kit
Initially you don't need to buy expensive kit to play squash, if after a while you are getting more serious about the game you might want to think about investing in more specific clothing and shoes.
All you need to wear is your usual gym kit but we do ask that you wear clean non-marking trainers, most trainers these days are ok.
(the sole mustn't scuff off and leave marks on the court)
For health and safety reasons we ask that you don't wear anything loose, jewellery or scarves while on the court.
The courts get quite hot and its important that you stay hydrated, please make sure you bring a bottle of water (there is a water cooler in the corridor)
---
Racquet
Don't worry if you don't have your own racquet, we can loan you one for the first few sessions and our coaches can advise you when you are ready to buy your own.
---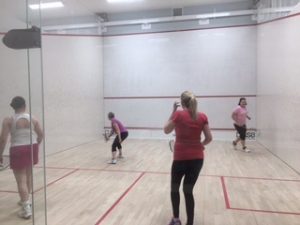 Ladies Coaching
Ladies squash coaching takes place on a Monday 7.30-9.00pm and is led by a qualified level one coach.
The session is for members and non-members and is suitable for all abilities from beginners to intermediates.
---
Beginners
If you are a complete squash newbie and have never picked up a racquet we would recommend you join our short beginners course.
This course is led by a level two coach and is designed to introduce you to the game, help you learn the basics and provide you with the correct techniques to help you move onto the next level.
You may decide to join the club and play competitive squash or (ladies) join our friendly coaching sessions on a Monday night and play for fun! Note that Beginners courses are 'mixed' male and female.
---
Ladies Club Night
Ladies club nights are held on the second Monday of the month 7.30-9pm and available for members and non-members, it's an open night where the courts are free.
If you are a new player existing experienced players will give help, guidance and support. And if you're a more experienced player you'll get the opportunity to play games at all levels.
---
Why not contact us for more information?
---
Supporting Women's Squash week 2018
---